RAVE REVIEWS FOR ENDURANCE
"This is the Best 'Top to Bottom' Jazz CD I've ever heard!"
- John Anderson
"On The Horizon" Radio Show"


"Playing with a maturity and confidence of seasoned musicians, the members of SounDoctrine come into their own with "Endurance," which brings to mind the production quality and songwriting of today's top jazz and fusion artists, while capturing the heart and soul that is so unique to this endearing and enduring group."
-Mary Crosby, editor,
DetroitGospel.com


"With the release of Endurance, Soundoctrine has shown their dexterity in both the jazz and fusion worlds. Endurance is their best work to date, and the band only seems to grow stronger and more polished."
Randy Allar WCSB-FM, Cleveland /
The Fusion Show


"The sound is bumping from your speakers to the streets, it's J to the A to the Z ZY- Y!!"
Richard' Zoom' Scott /
Fox 8 News Cleveland


"Are you awake yet? The FUNK BOMB coming from Ohio that you just heard, that woke up the JAZZ WORLD was called ENDURANCE by SounDoctrine"
-Bob Davis
Soul Patrol


"SounDoctrine continues to build on their musical legacy with the outstanding new CD "Endurance". Great funkdafied jazz with dashes of rock and salsa…Amazing CD and already going to be a staple on our radio shows!"
- Joe Kelley /
The Upper Room with Joe Kelley
and Gi Dussault Radio Show WVOF 88.5 FM in Fairfield, Connecticut

"These guys work very hard to give you their best. THEY HAVE ENDURED and many good things are starting to come their way"
Kevin Amos WRCT-FM, Pittsburgh

"SounDoctrine takes the new project to a new level! Real Fresh.... Real Fresh...be sure to check out Ohio's Funk-Jazz Masters!"
- L. Michele Stevenson WANR 1570/WRTK 1540 AM

"I had 'endurance' on my stereo all weekend… I'm not a huge jazz aficionado, but I do like fusion, and 'endurance' grows on you rather quickly... the songs are all distinct, and always lively and interesting…at times, it even sounds otherworldly… an excellent effort. Congratulations!"
Guy Dustalfo,
Youngstown Vindicator
An ENDURING Reflection by Jere B

Endurance began as a follow up to SounDoctrine's debut album "PERSEVERANCE." The band & music were much different, being more a 'Quincy Jones' like production featuring nine different lead singers with only three instrumental tracks. The album garnered great reviews so I immediately began compiling other songs I had written which would tie in as a natural follow up.

Meanwhile, we'd put together a BORDERS TOUR and traveled throughout Northeastern Ohio & Western PA with most of the original singers and musicians, broadening the musical pallette of the original compositions. However, because most of the vocalists were wives and mothers, they could not make the gigs consistently, so at times we (the band) found ourselves on stage having to do instrumental arrangements on the spot! Over time, we began to rehearse this way- just in case! Our former production director Kim Hines had captured most of these shows and "SD LIVE!!!" was born. Released in June 2003, it showcased several versions of the songs (no less than 3 of "YOYO"!) The BORDERS TOUR also led to a documentary "THE ROAD TO PERSEVERANCE" produced and directed by Art Byrd, which became a Featured Finalist in the 2004 Hollywood Black Film Festival, taking our sound to sunny LA in June of that year.

Meanwhile, the band's line up was changing constantly. Music Director, Cliff Barnes left to play with the likes of Pieces of A Dream (with whom he still tours), David Sanborn and Phil Perry among other notables. Composer & Keyboardist Jim Couchenour joined the group and our sound took on a more contemporary flavor, while retaining our Funky Jazz roots. Eventually saxophonist Jaymie Herod left the group to pursue other interests and Mike Austin (who had traveled off & on with the band) stepped onto the pitcher's mound. All the while, I had been whittling away at what I hoped would be the perfect follow up, while simultanously honing the ever emerging compositions coming from Jim C & Phil the Beat. I guess I really never looked up to notice that by now (early 2005) the band was completely instrumental - most of tunes I had sank my teeth into were written for vocalists.

It was around then I realized I may be making a huge mistake! See, I had prayed and told The Lord that this was 'HIS' band, 'HIS' music and 'HIS' project - Whatever HE wanted to do was cool - yet all the while keeping my hands on the steering wheel! Even though we had began rehearsing and incorporating Jim's great tunes into our set (SACRIFICE & SMALL MOUTH BASS among others) and had long introduced PTB's KICKIN STICK, I was still writing lyrics! When we played THE HOBO (now titled BLUES CROSSING) at the 05' New Year's Eve First Night Youngstown Show and saw the crowd reaction, I knew My Plans were futile. But since original vocalists Janis Jones, Angie Jones & Tara Amill had also performed several songs with us that evening, I kept plugging away. In fact, I even pursued additional vocalists and musicians whom I felt would retain the original vibe I had intended.

I began making copies of the new material for everyone to listen to - AND LEARN - but nobody did! So I began doing the next best thing (or so I thought!) - DOING IT MYSELF! But having to put the project on hold as Jim was ready to go into production on his debut " LIVING COLOUR," we went to work on his grooves. LIVI NG COLOUR was a very cool, exciting and different vibe I was blessed to be a part of and learned a lot from. One thing we knew for certain about this record making business is that you cannot just MAKE the darn thing - you actually have to PROMOTE it - even SELL it to people! So that's what we set out to do! Not surprisingly, SACRIFICE (featuring Mike Austin on sax) began receiving a ton of airplay locally (Legendary DJ Frankie Halfacre played it on 102 JAMS every chance he got! Thank you Sir!) and we were even approached by a National Radio Promotions firm to pick it up for placement on major stations, but we happened not to be multi-billionaires and refused to pay two arms, a leg, one of our own children and a nephew!

But we knew we were on to something so we kept hacking away at not only Jim's music, but the songs that Phil kept bringing to the table - These included what ended up being ONCE UPON A GROOVE & LEGEND of PTB. Phil also introduced a great song entitled SMOOTH JAZZ RADIO that we played live several times. In the middle of all of this , we were having these jam sessions (which were supposed to be show rehearsals) which yielded REALLY COOL & the aforementioned BLUES CROSSING and several others still waiting their turn at bat. It was then when Jim (whom we began calling 'The Balladeer) unleashed the sultry beast that became SOUL SONG - Now it was clear that I was all wrong with what I was trying to do with this new release and I freely admit, although I had released a montage of the material in one of our newsletters - When you tell GOD it's in HIS Hands - LEAVE IT THERE! So I obediently conceded.

Then things really took off!

We played The Flip Flop Fest July 17th, 2005 and ran into Paul Douds, who I had mey briefly about a year earlier at a local church. His wife Karen is a great singer and worship leader and his son Nate is a fabulous drummer who played in the Teddy Pentelas Trio with Cliff on Tuesday Nights at Cedars. I knew that Paul played guitar but I did not know that he PLAYED the guitar!! He and Karen ended up staying to see our set and we traded numbers. One conversation led to another and I invited him to sit-in with us at Anthony's on The River on August 12. When he hit his first two (2) chords we knew we had bitten off more than we could chew! I'll never forget the look on Mike's face as he turned around to express his enthusiasm - what a great night of music!

Immediately we took steps to make Paul a member of the band, yet understanding his personal schedule opted for him being our resident 'sit-in.' What delighted us most was Paul's ability to morph into any style at will. From Funk to Rock to Blues, he had the goods. Once Paul was on board to record the album, we began implementing necessary changes in the arrangements to accomodtae his solos and licks.

In early January of 05, I was sent one of those Power Point 'Slide Show' Emails that had traveled across the world and back from the number of addys attached to the thing. I usually delete then on site, but since the person who had forwarded it to me was my good friend and colleague Edra Frazier, I opened and watched. The photo of the little boy in the midst of the chaos literally enveloped me. I identified with him immediately. Perhaps it was because I was in the middle of an ever increasing personal turmoil spritually, mentally and especially in a particular relationship issue, the fact that this young black man was standing there, in protest, while everyone else was running and falling away confirmed my earlier ideas about entitling this album "ENDURANCE."

Immediately, we began looking for the owner of this photo. Edra helped by researching her sources; my eldest daughter Tejai, (the namesake of our parent company) then a Senior African-American Studies student at Xavier Uninversity picked up the baton to do some additional research, even enlisting her professors to help! Many hours of pouring over encyclopedias in our local library yielded no results, so we posted the pic on our website and offered rewards in our newsletter for the person who could tell us who the owner of this great work was. We are still looking...!

On Thursday, November 11, 2004 Mike was unable to make a gig in Canton due to his work schedule, so we enlisted the help of our old friend Cliff to some and come play the sax melodies on his keyboard. Sometimes you just have incredibly awful ideas - This was one of them! Not becuase Cliff could not handle the new stuff (Quite the contrary!!), but he had not played with us for about a year and was unable to rehearse, so I am literally force feeding him the music during the trip!

It was Disgusting. Really...

Unbeknownst to us, Cliff had called a friend of his to check out the set - I guess he thought we were going to have an 'ON' Night! Nevertheless, he introduced the young man to us as Keith McKelley, a heavy duty sax player. I could see that Keith was being cordial, but I could also see that look of sympathy in his eyes over what had just happened! He was gracious enough to give me his number in case we needed a REAL sax sub again. We did.

With every gig that Mike was unable to perform , Keith stepped in and added some ideas to songs we thought were 'set in stone.' His first opp to really vibe with us was in Pittsburgh and we all knew that somehow he'd be playing a larger role in the months to come. A musician who is truly 'In Demand' throughout NE Ohio, we are grateful that Keith was able to contribute his soul to this project and join us onstage as our premiere lead singer!

There are a few things you should identify as 'good problems' - Having so many great songs to choose from was exciting! There were several tunes that we thought were strong enough to be included on this offering, like Jim's candid LYNETTE'S BLUES (which has been featured on CD 93.3 FM'S 'TANGLED UP IN BLUES' -Thanks Cornel!). We had even considered placing an alternate version of INCIPIENCE on this album as we had beefed up the Live version so well. But there's only so much room and so many songs you can fit on an 120 cm aluminum disc, so these were the final votes. We are very pleased to include these versions of SACRIFICE & SMALL MOUTH BASS as a testament to Jim's enduring songwriting. We are certain that these two will become bonafide standards and will live a long, sweet life in 'Elevator Music Heaven!'

Below Jim & PTB and I share our thoughts on what inspired us when we first composed these tunes and other antedotes as we were going through production.

| | | | |
| --- | --- | --- | --- |
| | | | |
| Phil The Beat | Cliff Barnes | Keith McKelley | Paul Douds |



This track was something that had been festering for quite some time. I had been playing the line for a while during personal practice and kept saying, "I gotta do something with this groove!"
During tune-up before rehearsal with SD, I kept playing it saying, "Guys, we gotta do something with this one day!!"
As time allowed for creativity sessions, we started this song and began to add to it and it felt really good!
We all vibed on it and said, "we gotta turn the corner!" Hence, the change was added and the rest was just falling into place groove-wise!!
So, everyone felt it but at this point we had no title, B said, "I got it! Let's call it Once….."

Now, in Studio A, several months later, about to lay it down on the 2-track, we had no idea what was about to transpire after John said, "Stand By…"
The main tracks were recorded on the first take only thing was that Cliff wasn't thrilled with his part, which was played on a synthesizer, so he said, "ERASE IT…THE WHOLE THING!!!" Everyone was like, "Man, what are you talking about?? That was sooooo HOT!!" He replied, "Let me do it again with that piano over there!" referring to a Grand Piano that was in the studio covered up…so, the techs miked it up and let him go at it one more time!! So, that searing piano solo you hear was ALSO done in one take!! He was right…it sounds great and he knew what he had in mind!!! I couldn't believe what had become of my little practice groove!!!
Then Paul added his guitar spices…. MAN!!!! WOW!!! Effortless excellence!!!

After mixing and adding in a few more ingredients and sprinkles of light seasoning, it really began to blend into a tasty treat!!!

So, what you are listening to is, for lack of a better word, a groove-stew at its finest!! We cooked it up JUST FOR YOU!

Kick back and chill out, let SounDoctrine tell you a story that starts like this…Once Upon A Groove…


- Phil The Beat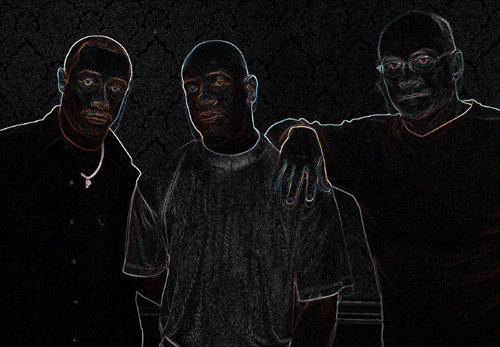 This was clearly one of those tunes that fell from the sky. When it all came down to who did what when? A Bass Pop here - A Piano Run there. This tune was all about organizing notes that just appeared.
It reminded us of something Donald Fagen would write after listening to a Joe Sample groove while conversing with Eric Clapton during a Lakers game, just before attending a Marcus Miller concert on a Thursday Evening.
But that's just us.
At the end of the day, it's just a cool tune.
Really Cool.
| | | | | |
| --- | --- | --- | --- | --- |
| | | | |   |
| Keith | Cliff | Nia & Ayana | Paul Douds |   |


Since the earliset inception of SD, Cliff, being the most advanced musician in the group at the time always pushed us to go beyond the standard 4/4 timing. Being a hardcore jazz lover since my earliest youth, I understood that there were other time signatures out there, but I did not understand them from a compositional standpoint. Any church hymn is going to put you in 3/4, 6/8 and most often 2/4 for 'sanctified' beats, but as a drummer, you'd just do them without really understanding how you could stretch, twist and even split the arrangements. Cliff introduced those ideas and talked with me (read bullied) me often about thinking beyond 4.

One of my favorite past times was taking my two younger daughters , Nia & Ayana to the neighborhood park. When Nia was 5 (she's now 12 & Ayana is 9) I was pushing her on the swing. As I was doing so, I began to think about the verbal beating Cliff had given me on getting outside of the square and it just so happened that the swing set we were on needed an oiling BADLY. But as the untimely rhythm became more consistent, a light bulb went off in my head as how to count odd time in succession and I began to apply this to the weird vibe coming from the swing. I think it was in 5.
 
Coming home and later doing the dishes - Yes, I AM a Strong Black Man who helps his wife out around the house - I began to count out other signatures and when I reached seven, I began humming the bass line almost immediately. Being that I was home alone, I ran directly down to the drums and began to play the beat that accompanied the line in my head. Once the guys gathered for rehearsal two days later, I had the melody just about worked out. I tried to imitate Chick Corea and put a counter melody across the bass. In my mind, it was more brassy with a lot of spanish-flamingo staccato structure. Jim & Jaymie hammered out the parts and not surprisingly his soprano sax smoothed out the original attack, so I added the 'hits' to reatain the startling effect.

 The 6/8 came easily enough, to give a much needed break to the intensity (and PTB's flying fingers)!! It was his idea to reverse the notes at the turn around, which turned out to be very cool. In rehearsal, at least in our sessions, everything we do is in preparation for the stage and if you have come to a show, you'd know that after the 6, we usually go into a Philathon of Old Funk tunes in his solo, after which we'd do the 'Wild 6' to take it back into the 7 and then out. To prep for the record, we decided to expand upon the 6 to give the song a little more continuity (plus it would save us a lot of money from not having to pay all of those artists PTB bites in his solos!)
This was a very strong song for Cliff to strecth on - he really shows his prowess in both time signatures. On the other hand, Keith is pretty adamant about staying in 4, but proves that he's no stranger to danger - we were all scared to pick the right take for his solo in 7, because he burned each one up. Most frightening of all was Paul on the Wild 6. He literally transforms the tune from the quiet pace set by Cliff and Jim's lilting strings and suddenly it's a metal tune!

 
| | |
| --- | --- |
| | |
| Derek Dixie | Derek & Jere B |
The glue that really holds the song together came about after we had finished laying the tracks. In fact we had dismantled all of the gear in the studio and was preparing to tear down the drums when young Derek Dixie walks in the studio and begins to play the song to the playback we were listening to - talking about being blown away! I told him right there and then 'You have to record this - NOW!!' - Although it took some persuading, our friend and RECW engineer Art Thompson, who had come up with us rewound the song and hit record - Derek - flawlessly - recorded the drums right over my tracks in two takes - just like that! It was as if the song were tailor made for him. Needless to say he is an honorary member of SD and will be playing with us whenever its convenient. I also snagged him to do an overdub on Kickin Stick (at the breakdown) and the tibale solo on LEGEND. When we came back down to mix the album, we snagged Derek to engineer the sessions.
Hermeneutics is a theological term which encompasses methods of how to accurately study the bible.
Context. History. Cultural. Literary. Genre. Original Intention
-Jere B